If you have pre-existing employees that you need to map over to Deputy from Netsuite, this can be done easily from the Netsuite employee list page as part of the Deputy Integrations Dashboard.
Note: Before you can successfully sync a Netsuite employee with Deputy, they must have whichever segment is linked to Deputy setup within their profile. So for example if in the integration you have chosen to sync Deputy Locations based on Netsuite Departments, the employee must have a Department set for this to work.
1. Once the Deputy plugin is installed you can access the mapping by clicking Netsuite to Deputy in the Deputy Employee line of the Integrations Dashboard.

2. The Netsuite employee list will display. The employee can be updated on each line. In the example below, the employee Bob Jones in Netsuite has not been linked to any Deputy employee.

3. To have this record sent to Deputy you need to do edit the SYNC TO DEPUTY setting in the employee record.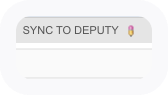 When you click into this record a checkbox will appear, clicking the checkbox will then sync that employee with the linked Deputy install.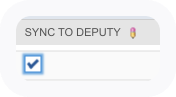 The employee will then sync over to Deputy.