What is the Deputy Connector?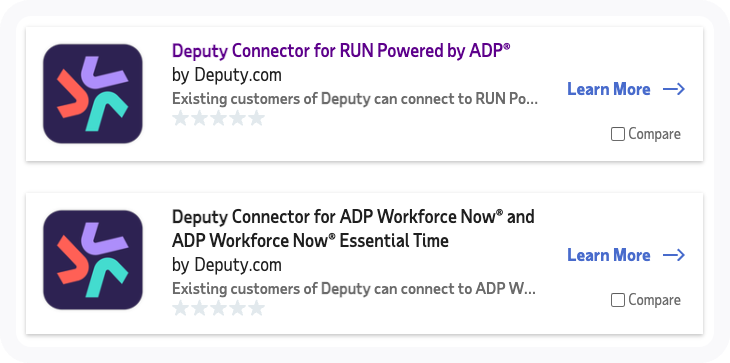 Deputy connector is an ADP-managed app that allows existing customers of Deputy to connect to their ADP account (for a monthly fee) and includes:
Automatic employee sync from ADP to Deputy

Over the air timesheet export from Deputy to ADP Run and ADP WFN
IMPORTANT - please read:
The Deputy Connector app is free only if you purchased the Deputy for Run or Deputy for WFN app in the ADP Marketplace.
However, if existing Deputy customers use ADP's Deputy connector app to connect a Deputy account (previously purchased directly from Deputy) to your ADP payroll account, ADP will charge you $5 per month to use the Deputy connector.
Before using the Deputy connector
ADP customers also using any ADP Time & Attendance product are currently limited to Employee Sync only.

If you are currently using ADP Time & Attendance, you will not be able to export timesheets from Deputy to ADP unless you end your subscription for the ADP Time & Attendance module.

The email address you use for your ADP account

MUST

match the email address you have set up in Deputy.

You must be an admin in your ADP account, which allows you to use the ADP Marketplace

In Deputy, you must be either a System Administrator or Location Manager.

You will need to approve timesheets in Deputy before exporting.

The timesheet integration allows you to export Department codes for cost tracking. To do so, ensure that your

Area Export Codes

in Deputy match the relevant Department code in ADP.

The Deputy and ADP RUN and Workforce Now integrations are designed to operate in a one to one relationship between each platform's accounts. This means if you have multiple ADP RUN or Workforce Now accounts, you must connect each of them to a unique Deputy account.
Deputy Connector for ADP Run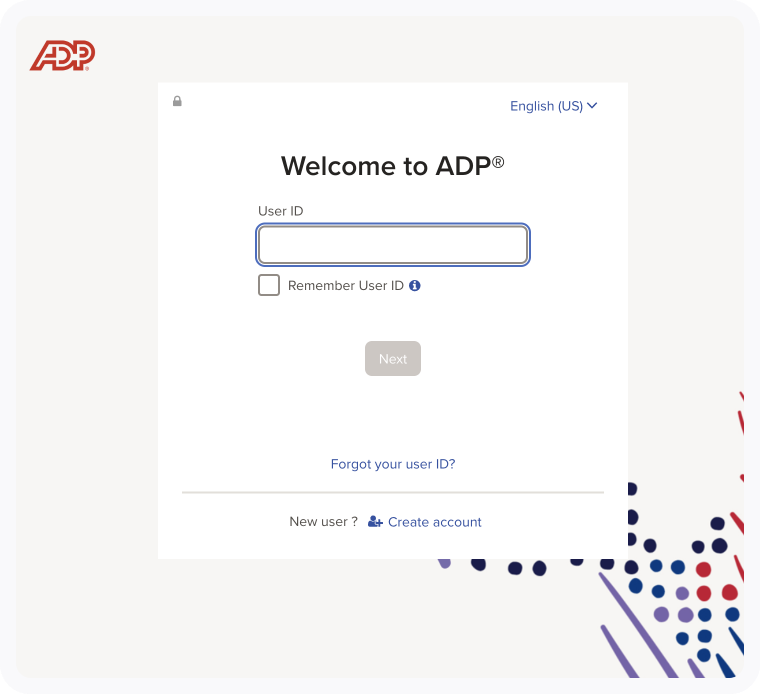 2. After logging in, the ADP Deputy Connector will be added to your cart. Click Continue.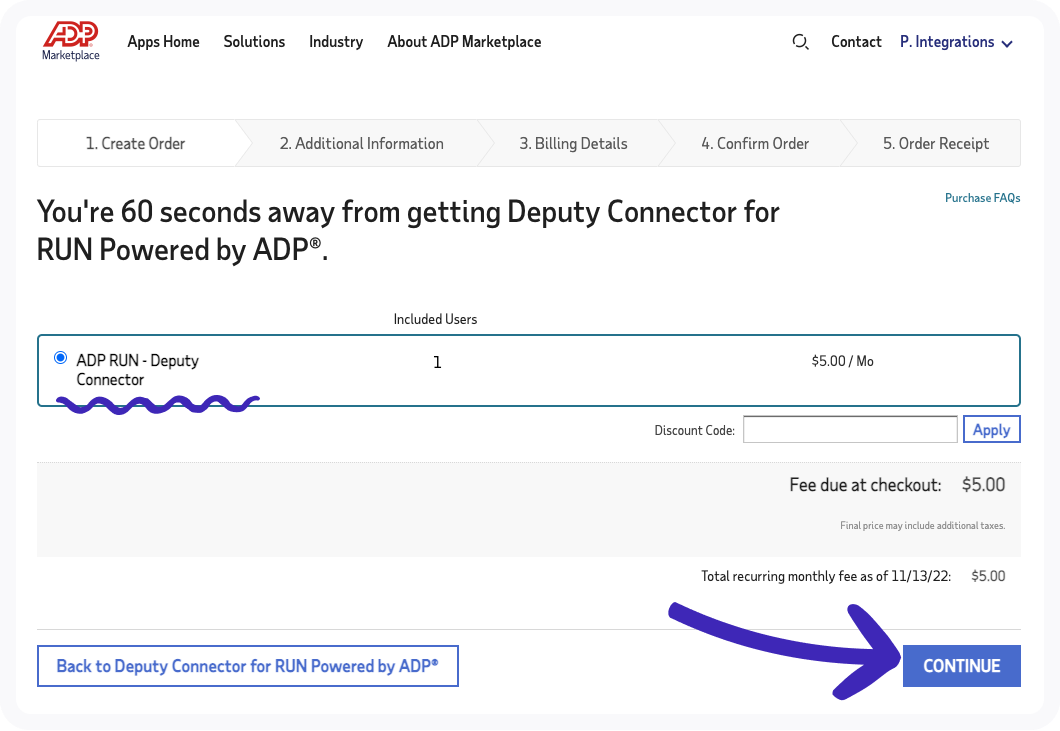 3. When prompted, choose to be billed to your ADP Invoice and Continue. Accept the T&C check box and click Place Order.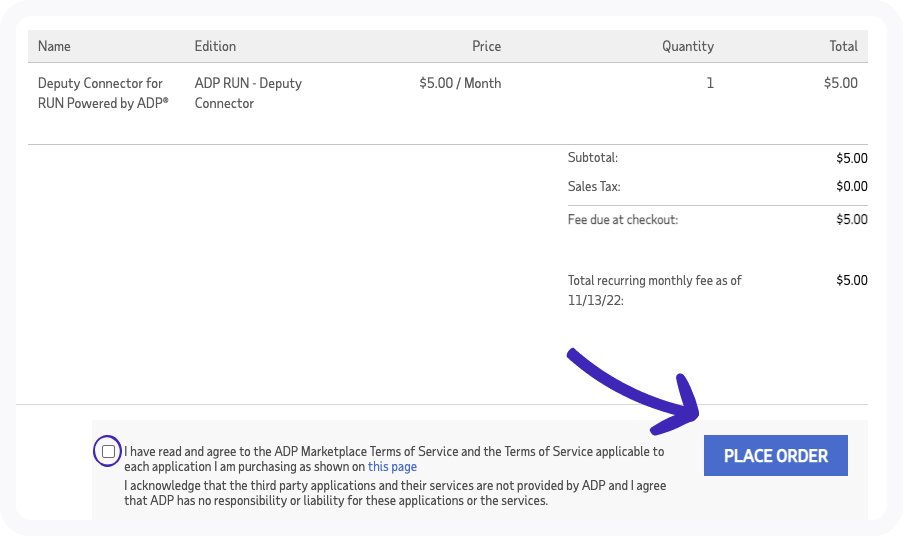 4. Once the order is complete, click Go To MyApps.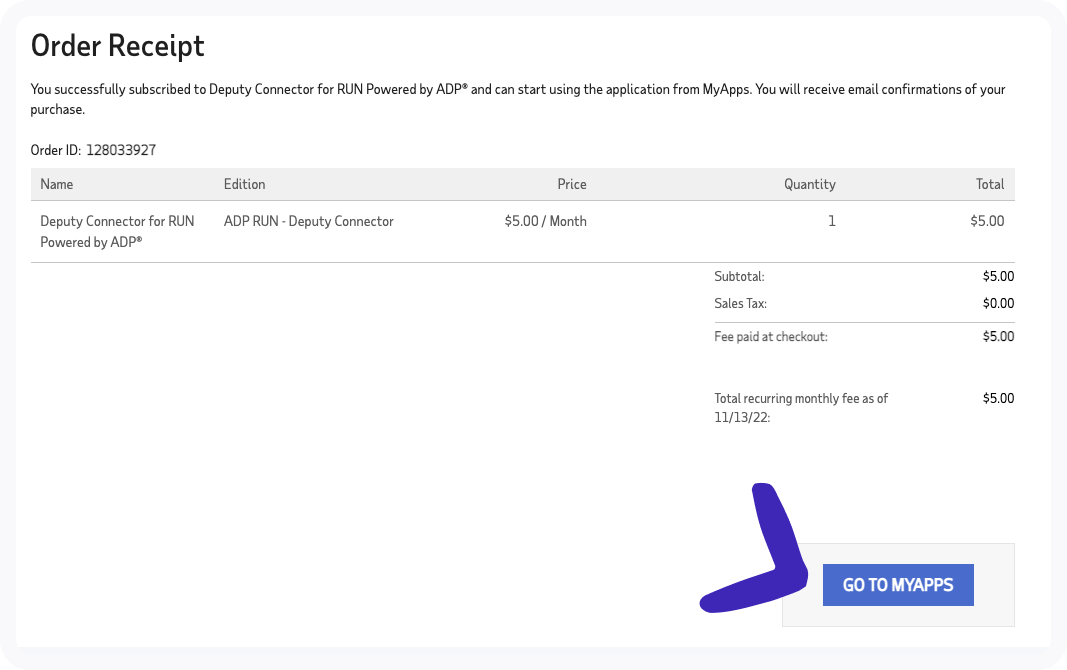 5. Now click the Deputy Connector icon and click Allow on the consent pop-up to connect to Deputy.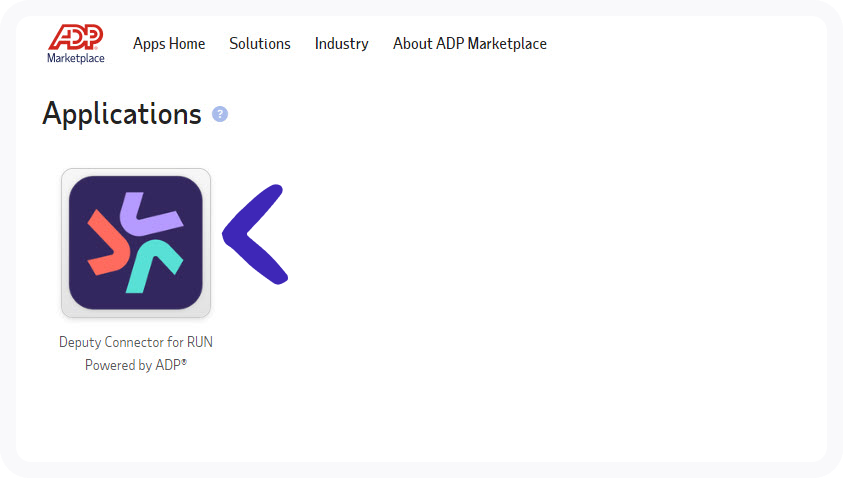 Deputy Connector for ADP Workforce Now
1. In the ADP marketplace search for Deputy Connector for ADP Workforce Now and ADP Workforce Now Essential Time and click Buy Now.

2. In the ADP marketplace cart, there will be a request for more information from Deputy.com. Click Edit.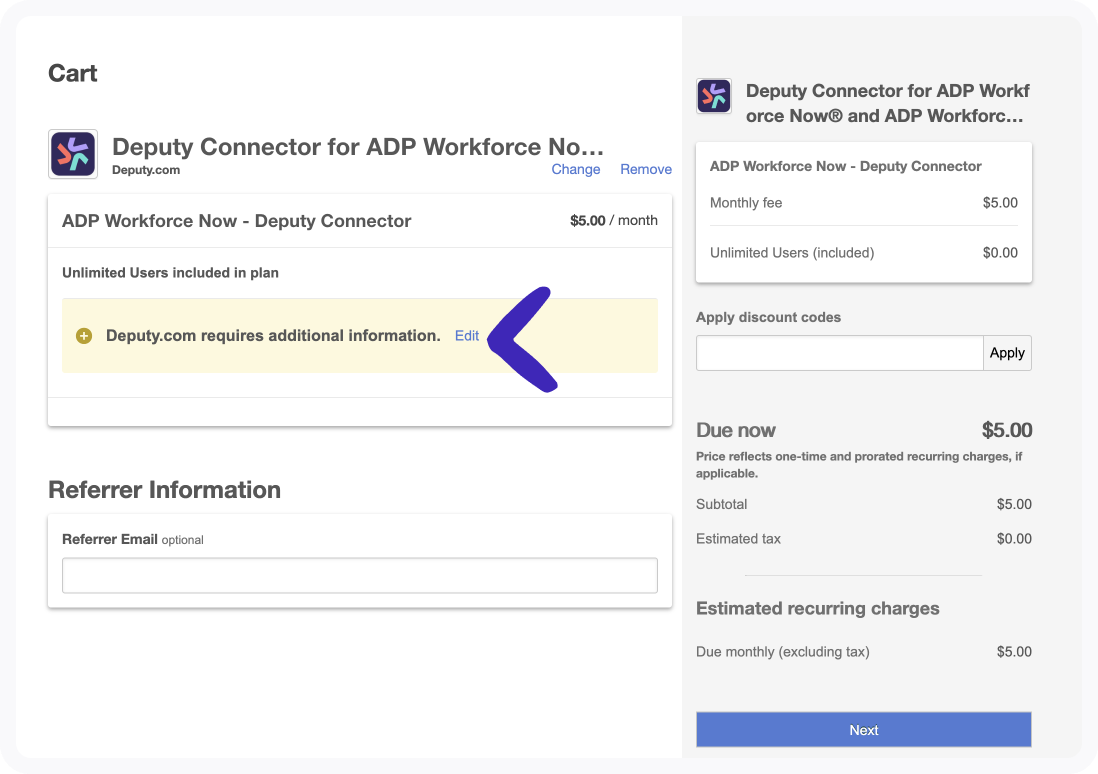 3. This will open a popup in ADP asking for a Deputy Account Identifier code.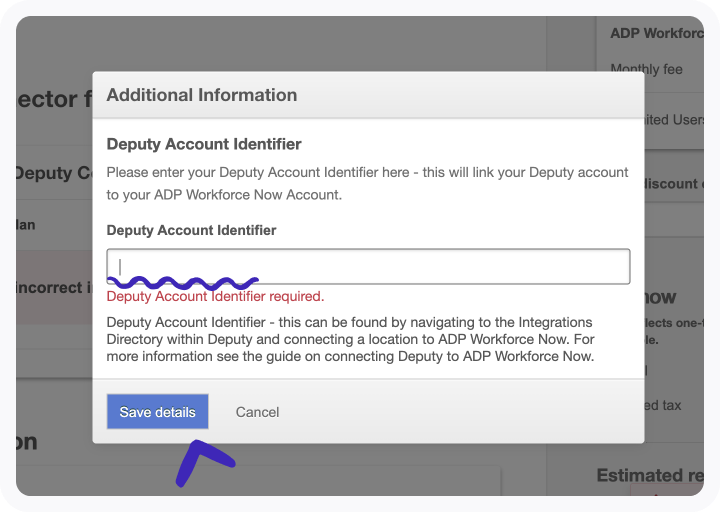 4.To retrieve this code from Deputy you will need to open another tab on your browser, login to Deputy and click on Integrations in the drop-down menu under your name on the top right-hand side of the screen.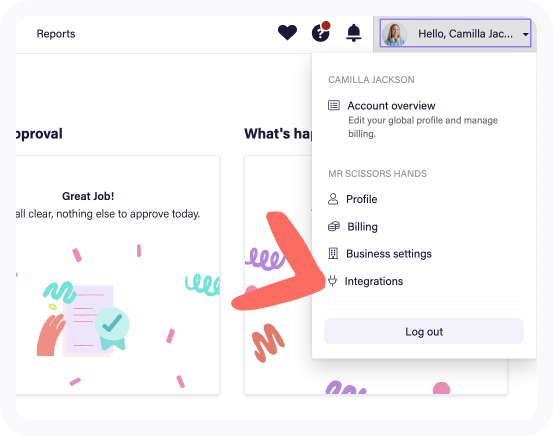 5. Click on ADP Workforce Now.

6. Click on
Connect
then click on the purple square icon to copy your Deputy account identifier code to your clipboard.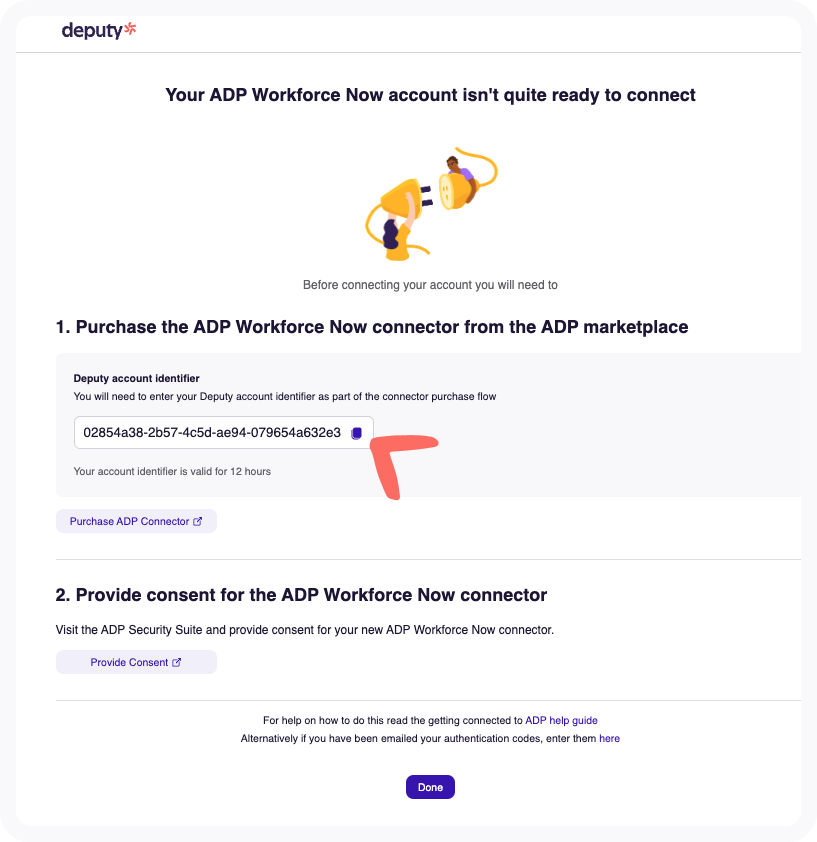 7. Return to the ADP marketplace popup and paste in your Deputy Account Identifier code that you copied and click Save details.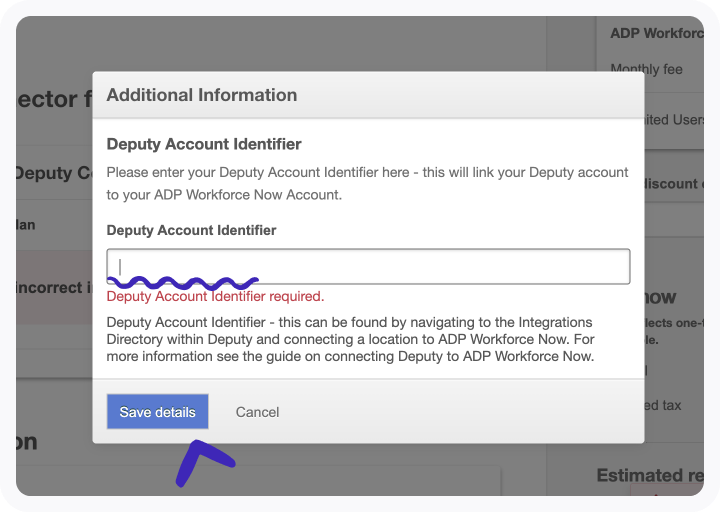 8. You should now see a green tick in the cart and you are able to click Next to complete the purchase.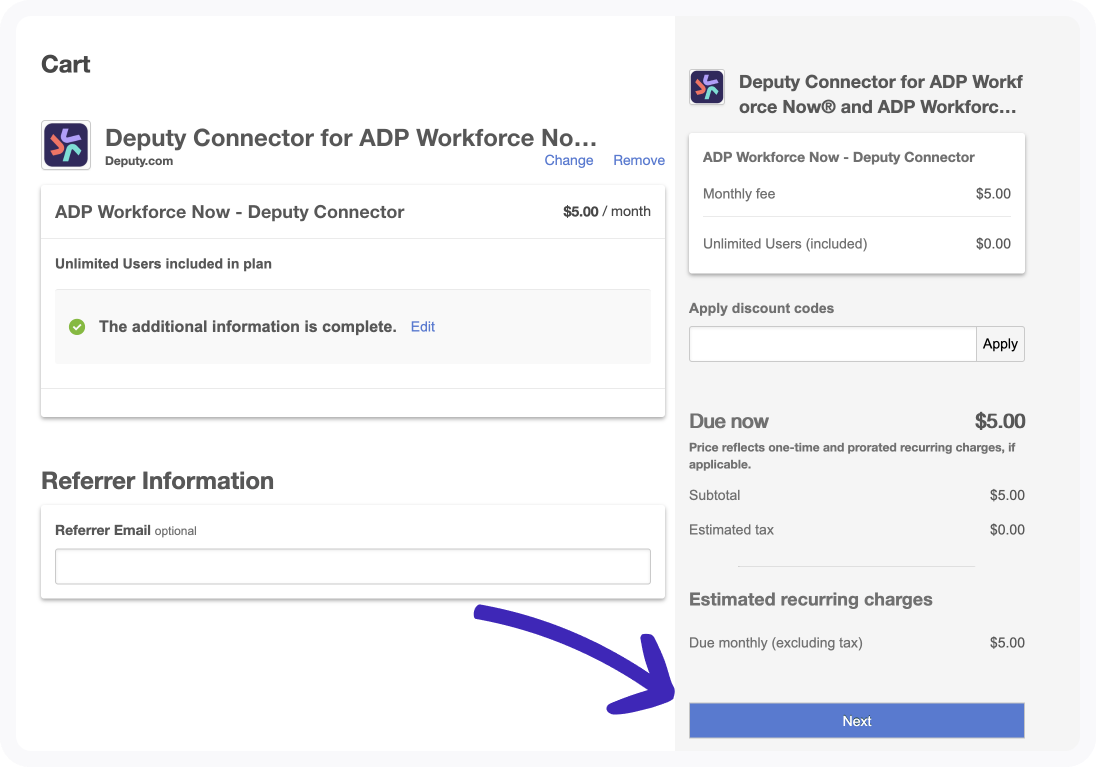 Next steps
You may be interested in: