This guide will show how to connect and sync with Talenox.
Connecting to Talenox
In Talenox, head over to the Integration page on the top right menu, then select 'Deputy' and ensure that you kickstart with mapping cost centres in Talenox to locations in Deputy. You will need to do this first, before creating employee profiles in Deputy using the employee details from Talenox.
The fields of the employees' details that are being mapped over are shown at the bottom of this article.*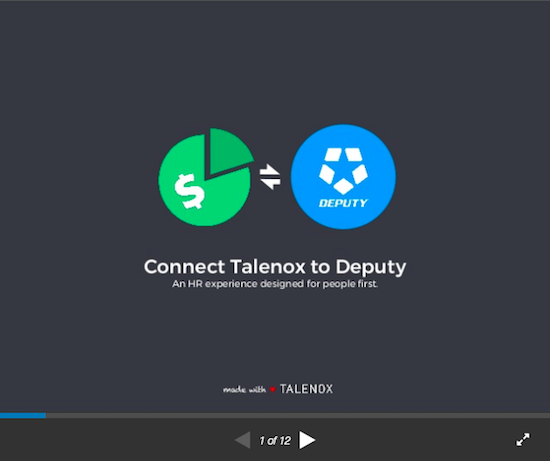 (Click on the image above for a detailed walkthrough.)
Once integration is done, you can start pulling approved time sheets from Deputy to Talenox. Once you have chosen the period to import the time sheets, import the time sheets, sync the employees if needed and process payroll as usual on Talenox.
View the following guide for more information: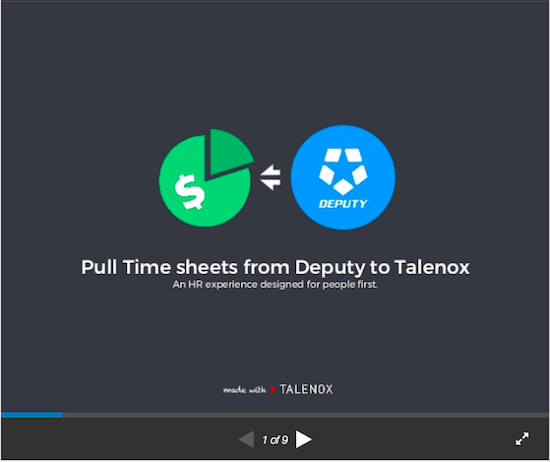 (Click on the image for a detailed walkthrough.)
*Fields of employees' details that are mapped from Talenox to Deputy
Cost Centre in Talenox as Location in Deputy

First Name

Last Name

Nick Name

Contact

Birth Date

Gender

Hired Date

Resign Date