About Tapcheck
Tapcheck paves the way for financial wellness by giving employees on-demand access to the wages they've earned. Available at no cost to US-based employers, Tapcheck's early wage access program uses an intuitive mobile app to give workers greater control over their finances, which reduces their stress at home and increases their productivity at work. Thanks to Tapcheck's seamless integration with Deputy, you can enjoy a cost-effective way to improve profitability, help distinguish your company from competitors, reduce turnover rates, and provide the financial flexibility that employees want.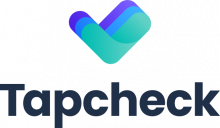 Benefits to your business
Help increase productivity, morale, retention, and ultimately, profitability
Research has shown that financial stress is one of the leading causes of employee turnover and decreased productivity at work. Giving employees the ability to get their earnings on-demand is a simple and effective way to combat the effects of financial stress, show employees that they matter, and create a positive work environment.
Help improve employee wellness
Implement with no cost or risk to your businesses
From registration to implementation, Tapcheck services are available at no cost to employers. Tapcheck's seamless integration makes administration hands-off after initial setup. Finally, since Tapcheck funds the withdrawals, there is no impact to your cash flow.
Easily integrate with Deputy
Tapcheck uses innovative technology to provide a user-friendly experience for employers and employees alike. Tapcheck's advanced operating platform works seamlessly with Deputy and almost any payroll provider/platform. Simply register with Tapcheck, provide basic banking and payroll information, and Tapcheck will automatically track hours worked and employee transfer requests. Once your company is registered, employees can sign up and access their earnings with ease using the Tapcheck app. Employees have a number of choices when it comes to where the withdrawn funds are sent. They can use Tapcheck's free paycard, their own debit card, or a bank account of their choice. Simple, seamless and stress-free — that's Tapcheck!
How the Tapcheck integration works with Deputy
Tapcheck integrates with Deputy to pull the unapproved or approved hours worked by each employee since the last payroll cycle. Specifically, this includes the employee's unique ID and the start date/time and end date/time for each of the shifts completed. This information is used in conjunction with wage and deduction data pulled from the employer's payroll service to calculate a safe daily withdrawal limit that starts at the lesser of $100 and 70% of net pay, initially.
How to learn more about Tapcheck and set up your integration with Deputy
Interested employers can sign up using the Deputy Referral Page. After signing up, a Tapcheck account executive will conduct an introductory session before handing the client off to the Tapcheck Implementation Team. Prior to implementation, the Tapcheck team spends time to learn about and accommodate the details of the employer's payroll and time and attendance processes.
How to contact Tapcheck support
Employers have three options:
Speak with the dedicated Customer Success Representative for the account.

Contact support via chat in the Web-based Employer Portal.

Submit a ticket via the Web-based Employer Portal.
Employees have three options as well:
Contact support via in-app chat. (login to Tapcheck required)

Submit a ticket via the app (login to Tapcheck required)

Contact customer service via phone at 866-697-6016