This article is written for users with Location Manager or System Administrator access level and will cover:
What does the add and edit timesheets setting affect?
The Add and edit timesheets setting specifically controls a team member's ability to:
submit a timesheet for a shift in the past that they were not scheduled for or did not clock in/out for

update/edit their clock on/off times on an existing timesheet that has not been approved

yet
The setting will affect team members editing their timesheets:
via the Deputy website, Deputy Kiosk for iPad, Deputy Web Time Clock and Deputy mobile apps

regardless of their own access level in Deputy
NOTE: changing this setting does NOT affect the ability of your team members to clock in for an unscheduled shift via Deputy web application, mobile app or Kiosk and Android Time Clock apps.
Team members will still be able to start unscheduled shifts regardless of whether you toggle Add and edit timesheets ON or OFF.
How to enable/disable the add and edit timesheets setting?
NOTE: This permission is turned ON in your account by default.
1. Go to Locations and click on Edit Settings in the location you wish to change.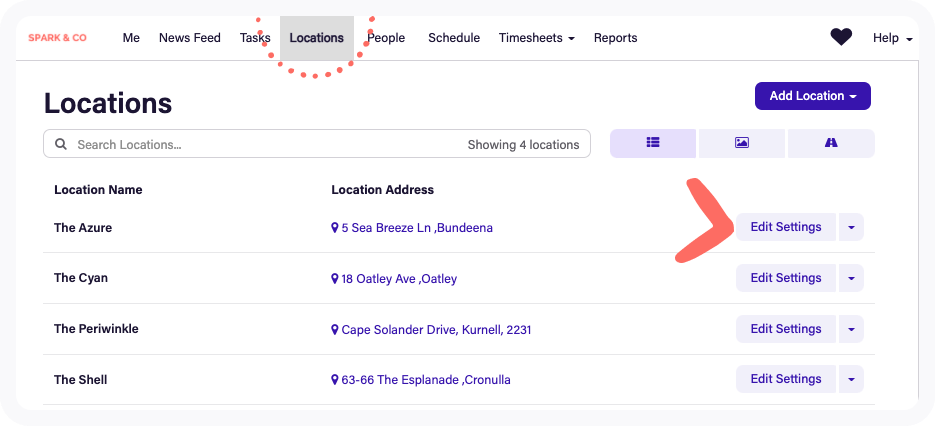 2. Select Timesheets from the list on the left.
3. Under Team Member Permissions, toggle ON/OFF the setting for Add or edit timesheets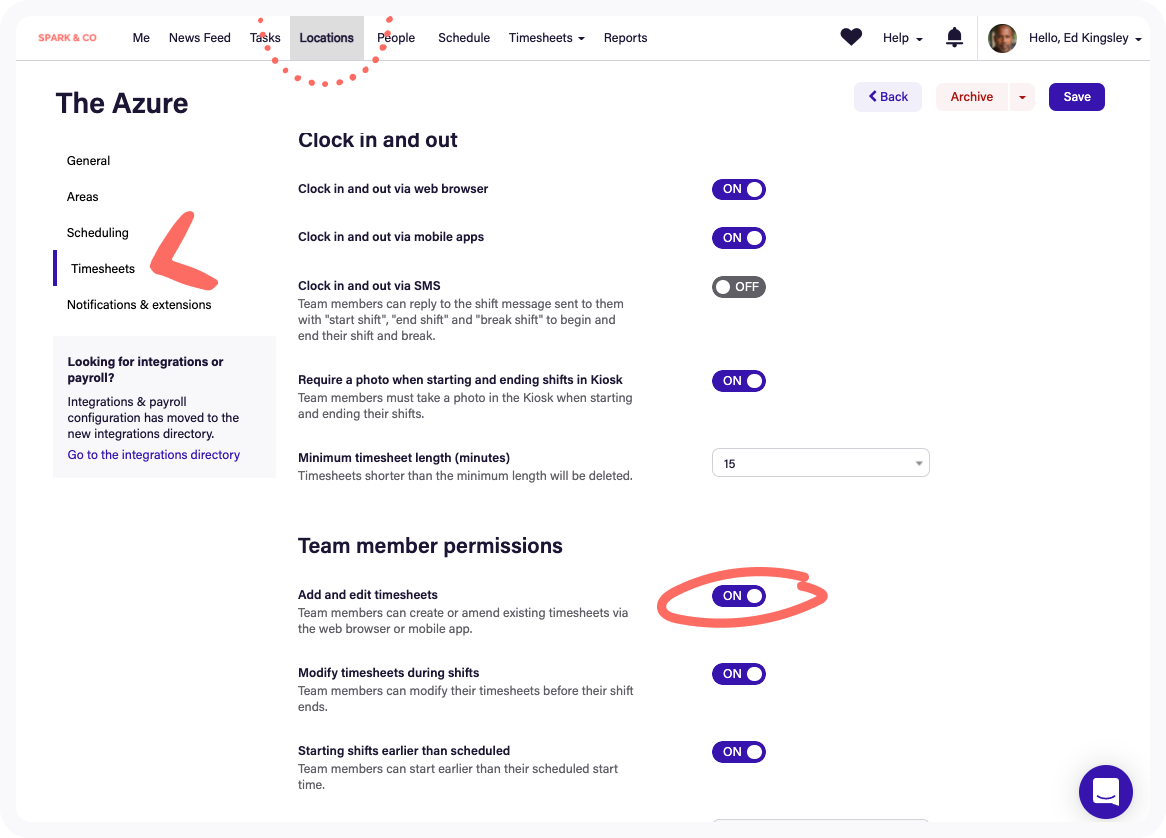 4. Don't forget to click Save before you close the window.
What do team members see if I disable this setting?
If you turn this setting ON, your team members can submit and edit timesheets on the Deputy web and mobile apps as described in Introduction to Timesheets.
However, if you turn it OFF, then your team members will receive a pop-up message informing them they are unable to add or update their own timesheet.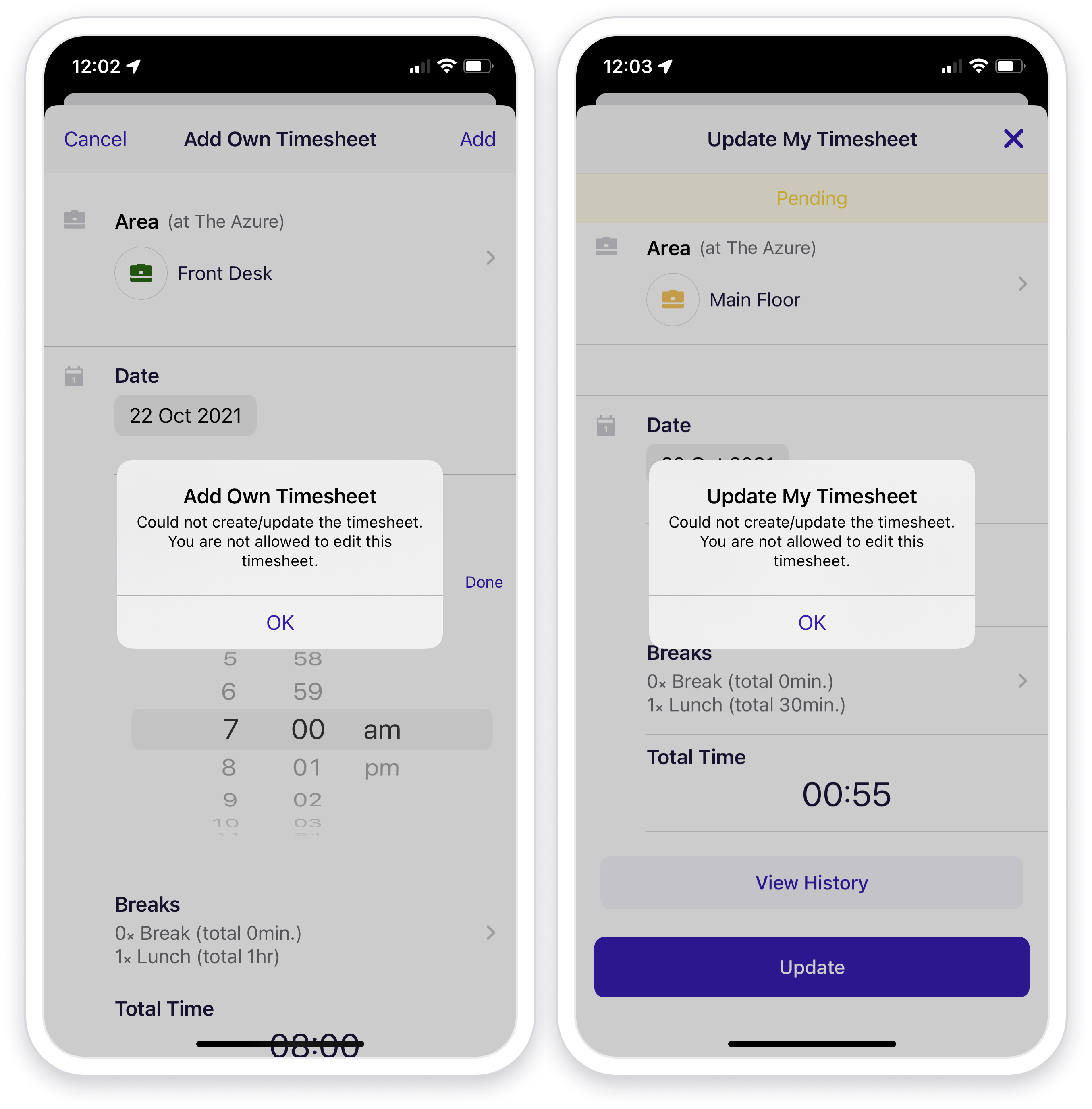 Can I still allow team members to modify a shift in progress?
Yes, if you decide to remove permission for your team members to Add or Edit timesheets by toggling off this setting you can still enable the setting below, Modify timesheets during shifts.
This scenario would mean that your team members:
Can not add any new timesheets from past dates
Can not edit completed timesheets from the past
Can start unscheduled shifts
Can edit the details of any timesheet currently in progress including:

start and end times
break times
area worked