How do I delete a News Feed Post?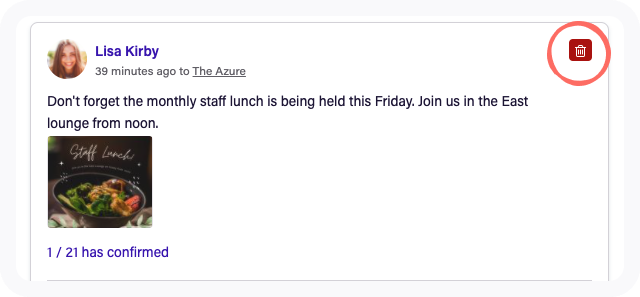 Please note that you can only delete posts from users who are under you in the Access Level hierarchy, therefore, you may not see this icon appear on posts other than your own.
Who deleted our posts / Why are they missing / Where have our posts gone?
We cannot determine who has deleted certain posts within Deputy. The only staff members who have permission to delete a news feed post are system administrators, and anyone higher up in the hierarchy than the team member who posted on the news feed.
How / can I delete the post of other staff & system admins?
Posts within the Deputy News Feed can only be deleted by team members who have the appropriate permissions and are higher up on the access hierarchy.
Can I restore deleted news feed posts?
No. It is not possible to restore news feed posts that have been deleted.
For more information read News Feed and Posts